Katchart DIY DVDs
For Design and Decorating of Homes and Property
Staging to sell  /  Defining to set up  /  Redefining to make over
DEFINING PROPERTY
A Katchart DIY Design & Decorating DVD to
define, set up and decorate a new home or addition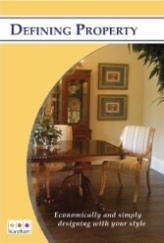 If you are going to be moving into or setting up a new house, apartment, condo, addition etc, DEFINING PROPERTY is for you. This DIY, dual DVD package is designed and organized to teach (in a simple, straight-forward manner) any person how to define (design and decorate for setting up) new property; easily, effectively and economically.
You can do it!
 Order Now
Only $19.95 + $5.95 shipping
                   Make it a showplace. Define it!
    Your new home is ready, but are you? Too often, the movers arrive with the furnishings and pandemonium breaks out. Instead of a being defined by your design and decorating plan, things are crammed in places to be dealt with later.
     With Katchart's DEFINING PROPERTY, you can do it right the first time, minimize a lot of the stress of moving and enjoy the experience of defining your new home. 
   More about new home set up and Katchart's DEFINING PROPERTY