Katchart DIY DVDs
For Design and Decorating of Homes and Property
Staging to sell  /  Defining to set up  /  Redefining to make over
Product Specifications for
DEFINING PROPERTY
A Katchart DIY Design & Decorating DVD for new home set-up & decorating
THE PRODUCT
DVD 1

DVD2
DVD 2

DVD 1 - DEFINING PROPERTY (the Basics) teaches the basics of DIY (Do It Yourself) new home set up and decorating. Includes before and after audio/visual explan- ations and how to manage your defining (set up) project.
DVD 2 - DEFINING YOUR HOME (the Application) - shows the application of the Defining Basics to an entire home, room by room (including curb appeal). Each room or space has a "before" section (explaining the problems) followed by an "after section" (explaining what was done and why) and many helpful hints.
    THE PACKAGING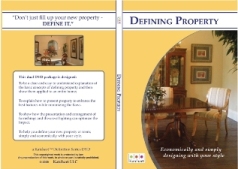 The casing is a clear plastic, dual-DVD, slim line case with a dual-sided wrap. The wrap exterior side is shown above. The interior side has two Table of Contents (one for each DVD) which appear.when the respective DVD is removed from the case.
Wrap Interior Side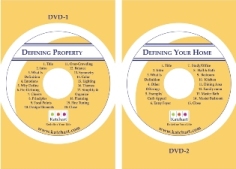 Both DVDs are easy to use and understand; are chapterized according to their Table of Contents; and, in additon to fast forward & reverse, have a skip feature allowing the user to quickly move backward and forward between chapters.
      RUN TIMES
The run time,
per Chapter,
for both DVDs in
minutes/seconds.
DVD 1 Run Times
DVD 2 Run Times
1
Title Screen
0:04
1
Title Screen
0:04
2
Intro
0:28
2
Intro
0:09
3
What Is Definition et al?
0:28
3
What Is Definition?
0:10
4
Emotions
1:17
4
Other Offerings
0:09
5
Why Define
0:28
5
Example Intro & Curb Appeal
2:46
6
Pre-Defining Activities
1:17
6
Entry Foyer
1:32
7
Closets
0:24
7
Study / Office
1:07
8
Definition Principles
0:21
8
Hall & Bath
0:49
9
Focal Points
1:25
9
Bedroom
1:13
10
Design Elements
0:21
10
Kitchen
1:01
11
Over-Crowding
1:27
11
Dining Area
1:48
12
Balance
1:21
12
Family Room
2:40
13
Symmetry
3:00
13
Master Bath
1:05
14
Color
2:45
14
Master Bedroom
2:04
15
Lighting
1:32
15
Close
0:39
16
Themes
1:17
 
Total
17:16
 17
 Simplify & Organize
4:45
 
 
 
 18
 Planning & Implementation
 1:17
 
 
 
 19
 Fine Tuning
1:12
 
 
 
20
 Close
 0:36
 
 
 
 
 Total
25:47