Katchart DIY DVDs
For Design and Decorating of Homes and Property
Staging to sell  /  Defining to set up  /  Redefining to make over
STAGING FOR SELLERS
A Katchart DIY Design & Decorating DVD to stage
homes or any property for a faster, more profitable sale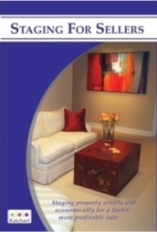 If you are selling or thinking about selling, STAGING FOR SELLERS is for you. This DIY, dual DVD package is designed and organized to teach (in a simple, straight- forward manner) any person how to stage any property (home, house. condo, etc.) easily, effectively and economically.
You can do it!
 Order Now
Only $19.95 + $5.95 shipping
                        A staged property rises above the competition.
    Staging, simple stated, is top tier real estate marketing! The staging is specifically tailored to a property to optimize the presentation resulting in both strong first impressions and positive emotional impacts on potential buyers.
    Usually, buyers know their price range and location requirements before they start visiting properties So, virtually all, final, home purchase decisions end up being made for emotional reasons.
More about Staging  and Katchart's STAGING FOR SELLERS